A HUGE THANK YOU goes out to Mrs. Stoltenberg at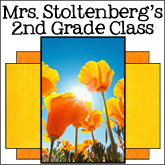 Mrs. Stoltenberg's Second Grade Class
for nominating me for the Versitile Blogger Award! I am very honored!
So here are the required 7 random facts about me:
1. I have 2 daughters. Daughter #1 just graduated and is going to be a physics teacher in a teeny tiny town in Illinois. Daughter #2 is currently in Mexico studying abroad. She is a Homeland Security/Criminal Justice/Spanish major and will be a Sr. in the Fall!
2. I have 3 dogs and 3 cats that are spoiled rotten!
3. I am teaching 1st Grade ELL Summer School.
4. I am reading "Gone Girl" on my Nook.
5. I've been married for 28 years to my college sweetheart!
6. I've lost 50 lbs. since last June!
7. I joined a local Couch to 5K program in February of this year. I have ran 4 - 5Ks and I run 3miles every other day.
I'm going to have to look for 15 great blogs to nominate for this fantastic award so I'll be back later for an update! Thanks again Mrs. Stoltenberg!
Laurie